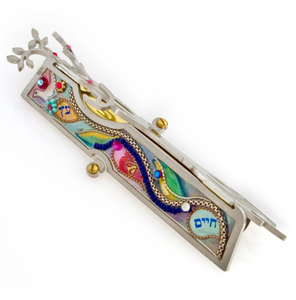 Seeka
Modern Tree of Life Mezuzah
Regular price
$240.00
$0.00
Shop Now! Now Available at MyAmericanCrafts a Modern Tree of Life Mezuzah case by Seeka.
This Modern Tree of Life Mezuzah Case is a miniature artwork with its intricate design, exuberant colors, hand painting and stainless steel frame. Austrian crystals, beads and a variety of other materials are delicately assembled and set in artists' resin resulting in a beautifully finished and durable piece.
A more contemporary image of the Tree of Life symbol, it features a sophisticated triangular design with two vertical illustrations of the Tree of Life motif. The Hebrew word for Tree of Life is scribed on the left panel with other Judaic symbols. The right panel is an intricately cut and twisted stainless steel tree. Hand painting, followed by a variety of materials meticulously arranged inside the delicately cut frame finishes this beautiful Mezuzah case.
The Mezuzah is a ceremonial object. The mitzvah or commandment of placing a Mezuzah is derived from Deuteronomy 6:4-9: "inscribe them on the doorposts of your house and on your gates". A  Mezuzah is mounted on every doorway in a Jewish home.
Traditional wedding, housewarming, Hanukah, or christening gift.
Mounting screws or nails included along with a photocopy and a translation of the Shema prayer, and placement instructions.  Can also be mounted outdoors, preferably under an overhang.
Approx. 4.75" tall x 1.5" wide
---
Share this Product
Delivery of Handmade Items may vary from 2 to 6 weeks. Call Store for Details 607-277-2846.
---
More Products Like This