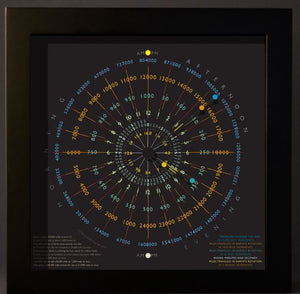 Clever Clocks
Speed of Time Clock
Regular price
$125.00
$0.00
Now Available! Shop Now at MyAmericanCrafts this intriguing "Speed of Time" by Clever Clocks.
A 24 hour clock that shows time relative to distances the Earth travels each day, racing around the Sun at 67,000 miles an hour whilst spinning on Earth's axis at 1,000 miles an hour. Each day we complete a rotation of just over 24,000 miles and over 1.6 million miles orbiting the Sun.
The clock has 6 numerical rings (counting from the inner ring first)
The sky changes color as the day advances.The white hand shows minutes, black and white hand second
RING 1 Miles traveled every 5 seconds as we spin on Earth's axis.
RING 2 MINUTES and SECONDS
RING 3 HOURS (24 hour time)
RING 4 Distance in thousands traveled at 1000 mph on Earth's axis.
RING 5 Distance in hundreds traveled at 1000 mph on Earth's axis.
RING 6 Distance traveled at 67000 https://cleverclocksusa.com/clocks/speed%20of%20timemph orbiting the
A high-quality quartz battery runs this 24-hour continuous sweep clock.

Speed of Time is powered by a high torque quartz motor running on a AA cell battery. It runs silently and continuously with the second-hand revolving noiselessly around the colorful face.
Completely handmade, using archival inks for the face and hand-cut, lacquered wood for the case.
Handcrafted, contemporary in style, and fascinating to watch, these clocks introduce us to a whole new way to view time. A Clever Clock is a functional timepiece but is a unique work of art, as well. One that intrigues the viewer and makes checking the time a bit more interesting. Watching a Clever Clock, you will notice by the smooth, gliding movement of its second and minute hands. There is no "tick-tock"; a Clever Clock is silent, allowing you to visually enjoy the clock's striking images. The continuous flow of time is personified in a Clever Clock, quiet, and always moving forward.
Available in three sizes.
---
Share this Product
Delivery of Handmade Items may vary from 2 to 6 weeks. Call Store for Details 607-277-2846.
---
More Products Like This