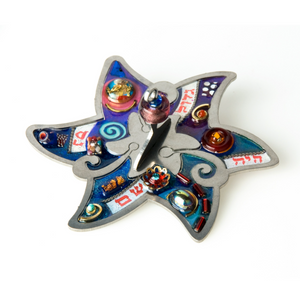 Seeka
Star Dreidel
Regular price
$130.00
$0.00
Shop Now! Now Available at MyAmericanCrafts this colorful Star Dreidel by Seeka.
Played during Hanukkah as well as widely collected, a dreidel (Sevivon in Hebrew) is similar to a spinning top made up of four sides. Each side is represented by a Hebrew letter: Nun, Gimel, Hey, and Shin standing for Nes Gadol Haya Sham (Great Miracle Happened There).
Sure to bring joy while played or on display.
The Star Dreidel is a miniature artwork with an intricate design, exuberant colors, hand painting, and stainless steel frame. Austrian crystals, beads and a variety of other materials are delicately assembled and set in artists' resin resulting in a beautifully finished and durable piece.
Traditional wedding, housewarming, Hanukah, or christening gift.
Approx. 3" x 3" x 1.5"
---
Share this Product
Delivery of Handmade Items may vary from 2 to 6 weeks. Call Store for Details 607-277-2846.
---
More Products Like This