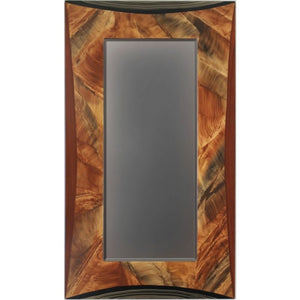 Grant-Noren
Painted Vertical Mirror
Regular price
$508.00
$0.00
Shop Now! Now Available at MyAmericanCrafts this beautiful Faux Grain 18 x 21 Painted Mirror handcrafted by Grant Noren.
Hand Painted wood grain on hardwood. Crafted with a Scandinavian Technique from the 16th Century. The artists mix pigment with a milk based emulsion and apply the glaze with brushes, combs, sponges and even fingers to create an amazing grain texture. 
As taught by an old master in Stockholm,  an under layer of sealing stain or paint is applied, after which a  pigment  is mixed with a milk-based emulsion and   brushed, combed or sponged on. Finally, a  varnish is applied to protect the work and impart a commanding sheen.
 Dust with soft cloth or to clean just wipe the surface with a cloth dampened with a non-wax containing polish or mild detergent solution.  Avoid the use of ammonia-based products or silicone oils as they may cause damage if used over a long period of time.
      The finish is durable and resistant to most household spills.  However, spills should be wiped up promptly to avoid potential problems. Excessive prolonged exposure to direct sunlight, high temperatures and high humidity can cause damage to both the finish and the wood itself.  Following these simple steps will keep your finished piece looking like new for generations.
  Ingela Noren and Daniel Grant are the inheritors of a Scandinavian tradition. The early craftsmen who developed their method of "faux finishing" reproduced exotic stones and wood on furniture and building interiors. Over the centuries, perfect imitation became less important. Craft merged with art, and was revealed through the artist's emotion and hand.
---
Share this Product
Delivery of Handmade Items may vary from 2 to 6 weeks. Call Store for Details 607-277-2846.
---
More Products Like This