About Gerald Patterson Glass
Gerald Patterson Glass features hand blown glass platters and vases influenced by the beauty of nature. Gerald lives and enjoys time in the high mountains of northern Colorado.  Light, water, wind-sculptured snow, vegetation, and wildlife evoke emotions and feelings. These, in turn, crystallize into the organic feel in his evolving glasswork.

More ↕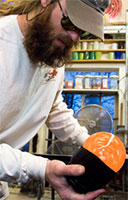 Gerald Patterson Studio 
Gerald creates each piece in his own private studio located in the northern Colorado mountains. He forms his clean lined art glass using traditional tools.  He uses both traditional and non-traditional techniques in a modern studio. Much of his glass art he creates solo. This echoes the tradition of the forefathers of the early 1970s American small studio movement.  Taught this way, it remains the root of his style of glass art.
Beginning and Inspiration
From Iowa, Gerald knew he wanted the experience of mountains when he was young. He wanted to live near them. So, he settled down near Rocky Mountain National Park. This was the impetus for his future career as a glass artist. Gerald discovered he was living next to a glassblower and started hanging around the studio. He became fascinated.  And drawn to the beauty, freedom, and creativity of glassblowing.
His Technique and Process
Patterson's studio is unique in the glass world. It is smaller. And, unlike the majority of glassblowers, Patterson works solo, using many rare techniques. 
His glassblowing process begins by gathering molten glass from a furnace onto a blowpipe. The temperature of hot glass exceeds 2000 degrees Fahrenheit (1,093.33 degrees Celsius) at this point. Color is then applied in a myriad of fashions. With the amount of glass set, the colors are combined with the artist's satisfaction.  Next, a bubble is blown into the glass. The bubble is then coaxed into the desired form using a variety of tools (jacks, paddles, wet newspaper). One or more bubbles fused together results in a process known as incalmo. The finished piece is then placed into an annealing oven where it cools at a controlled rate.
Why buy Gerald Patterson Glass Art?
Gerald has been a master glass artist for 21 years, pushing the limits of his abilities. Finding new challenges to conquer and techniques to master. Part of the joy in his work is from the problem solving involved in creating something new and unique.  He is exploring the use of another set of hands, or an assistant to aid in the glass forming process. His current work is a combination of solo and assisted work.

The organic shape and feel of Gerald's hand blown glass platters and vases have flowing lines of sumptuous color.  They are just outrageously beautiful! This makes them striking accents for your wall or table-top decoration. Modern and clean lined, they work well at home or in your office or business setting. The simple shapes lend themselves to multiple decors. They make memorable corporate gifts or a most special wedding or housewarming gift. And they are perfect for a bit of self-indulgence!  The platters are ready for you to wall mount with sturdy wire hangers. The vases provide you with stunning centerpieces for your console table or wall niche. 
His work is rich in earthy color saturation with red, rust, caramel and gold. Or, incorporates the opposite end of the color spectrum; celestial shades of blue, aqua, and green. The variety of hues and forms can accent both residential and corporate settings. The swirl of colors appears both natural and unique. Shapes are fluid and sensual.  This collection of glass works of art is ideal to grace your home or office. Gerald Patterson Glass brings nature's exuberant colors inside.   
---