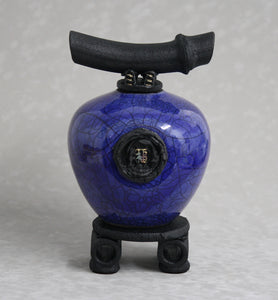 Matthew Lovein Raku
Lapis Blue Crackle Wish Keeper
Regular price
$595.00
$0.00
Now Available! Shop now at MyAmericanCrafts for this beautiful "Lapis Blue Wish Keeper" by Matthew Lovein.
Created in Hawaii, this  Lapis Blue Crackle Wish Keeper has a lid that lifts and suspended from this lid, on a silken cord, is a ceramic cylinder into which you can insert a parchment with your fondest wish.
The ancient symbol on the multi-colored, highlighted seal represents good fortune and abundance.   Each piece is sealed by pressing the carved symbol into the wet clay, for a lifetime of good wishes.
Lovely Lapis Blue; this Wish Keeper is deep cobalt blue with raku crackles throughout.
 The seal is highlighted in multicolors and has a black bamboo formed top. Color may vary.
Wonderful as a "Good Luck & Best Wishes" gift for a lucky couple or as a meaningful present to oneself.
Important to note that Raku Firing will produce different color variations at different times. The color of your Wish Keeper may vary based on the firing.
Measures 9"x 9" x 14"
---
Share this Product
Delivery of Handmade Items may vary from 2 to 6 weeks. Call Store for Details 607-277-2846.
---
More Products Like This