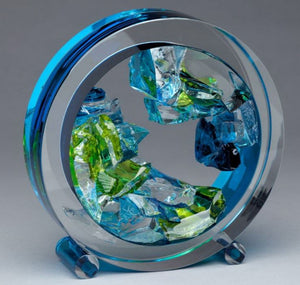 Shardz by Fay miller
"Blue Geode" Glass Sculpture
Regular price
$985.00
$0.00
Shop Now! Now Available at MyAmericanCrafts this intriguing "Blue Eclipse" glass sculpture by Fay Miller of Shardz studio.
A brilliant blue to clear circle of glass holds "geode" shapes in blue, clear, pale blue and acid green to combine in an organic yet contemporary form.
Artist Fay Miller's desire to create beautiful things with her own two hands motivated her to leave a graphic arts career to work with glass.
 Intrigued by the reflective sheen of glass, Miller's work tends to be surface oriented, decorative and undisciplined.  She delights in the random beauty of the glass shards and the joy and ritual they represent.
Amazing  color-play viewed from every angle!
Other color combinations available
If not in stock, allow 4-8 weeks for delivery.
Dimensions Large 10"H x 10"W x 4" D
                   Small  8"H   x   8" W x 3" D
---
Share this Product
Delivery of Handmade Items may vary from 2 to 6 weeks. Call Store for Details 607-277-2846.
---
More Products Like This