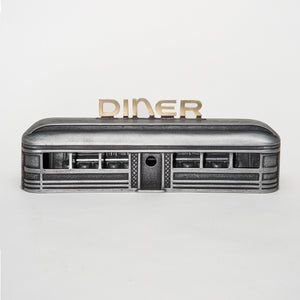 Scott Nelles
Bronze Diner Sculpture
Regular price
$288.00
$0.00
Now Available! Shop Now at MyAmericanCrafts for a nostalgic Bronze Diner Sculpture handcrafted by Scott Nelles.
This vintage diner is reminiscent of "happy days". Think burgers, fries, milkshakes and car hops! Attention to detail inside includes malt machines, full counter and stools. Don't forget to look around back to see the local stray dog helping himself to the leftovers. Dogs gotta eat too! Add in the separate cars for more retro fun.
Bronze & Cast Aluminum. H - 5.5", W - 3", L - 16", 5 lbs.
Cars sold separately.
Sand cast and hand finished, this is an elegant but whimsical rendition of a great memory for many of us.
---
Share this Product
Delivery of Handmade Items may vary from 2 to 6 weeks. Call Store for Details 607-277-2846.
---
More Products Like This