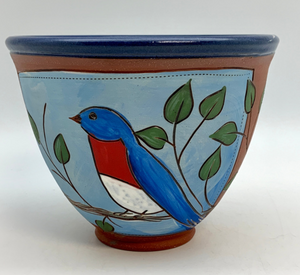 Jen Stas Pottery
Bluebird Bowl
Regular price
$98.00
$0.00
Shop Now! Now Available at MyAmericanCrafts for a lovely Bluebird Bowl by ceramic artist Jen Stas.
 This beautiful bluebird bowl is created by carving the image into the clay; this is called sgraffito. The vase is slab built with a folded seam down the back, satin underglaze, and a shiny bright blue glaze for this lovely bird and the lining of the bowl.
Jennifer, a full-time potter in Wake Forest, NC., creates a marriage between aesthetics and function, through distinctive use of color and form. Starting with a practical and useful form, the pottery becomes a functional palette for layers of colorants and carving. Finding inspiration in the endless imagery of the mountains and coasts of North Carolina, her pottery reflects it's vibrant colors with the earthy brown of the clay and the contrast of mattes and velvets against shiny and hard surfaces.
The vase measures approx 7" tall x 7" X 6" wide.
Lead free, microwave and dishwasher safe.
A wonderful gift for a bird lover!
---
Share this Product
Delivery of Handmade Items may vary from 2 to 6 weeks. Call Store for Details 607-277-2846.
---
More Products Like This