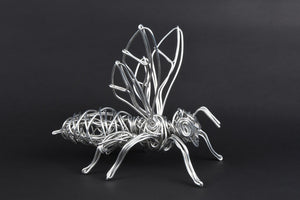 Drawn Metal Studios
Honeybee Metal Sculpture
Regular price
$110.00
$0.00
This very realistic honeybee sculpture is made freehand from one strand of 8 gauge aluminum wire. It will perch on a table or shelf; can also be hung on the wall.  Fun representation of one of Nature's hardest and busiest workers. Bees measure approximately 9"x 9"x 9". 
Traditionally wire is manufactured by a process known as drawing, where a heavy chunk of metal is pulled -or drawn- through progressively smaller dies until it becomes thin and malleable.  In a similar manner, over many years, Devin's innovative self-taught technique refined the process, allowing him to create his gallery of sculptures. 
Size and shape vary slightly.
---
Share this Product
Delivery of Handmade Items may vary from 2 to 6 weeks. Call Store for Details 607-277-2846.
---
More Products Like This