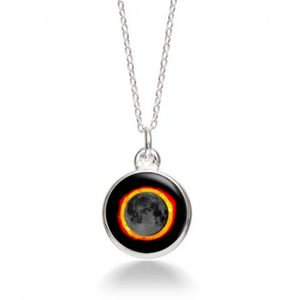 MoonGlow Jewelry
MoonGlow Solar Eclipse Necklace
Regular price
$58.00
$0.00
Now Available! Shop Now at MyAmericanCrafts for this Full Moon MoonGlow necklace by MoonGlow Jewelry.
The moon is said to be "full" when the sun completely illuminates its the Earth-facing side. The Full moon can be a stunning vision rising over the horizon.
Selfless and generous are said to be characteristics of those born under this lunar phase. They give their all to everything they attempt. Full moon couples have great vulnerability allowing them to connect on a very deep level. 

MoonGlow Jewelry is a unique type of jewelry that shows the phase of the moon. 
The phase occurring on that day, any day, any year is available to set in a pendant, bracelet, or ring. The shimmery "glow" happens after the moon absorbs light during the day and glows an ethereal blue when the sky is dark! 
In the natural world, light is reflected by this silvery, celestial body. Its luminous shimmer has inspired romantic wishes for centuries. Many believe wearing its image can bring you magical dreams. And a crescent moon symbolizes womanhood, intuitiveness, and empowerment for the wearer. The power of the moon pushes and pulls the ocean tides and can dictate the planting season. Lovers have long enjoyed the face of their beloved illuminated by the rays of the silver moon.
There are so many life events to treasure; birthdays, graduation, new job, first grandchild, champion sports team, first date, illness recovery, wedding, and countless others. Celebrate each one!
---
Share this Product
Delivery of Handmade Items may vary from 2 to 6 weeks. Call Store for Details 607-277-2846.
---
More Products Like This