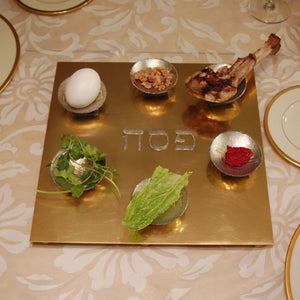 Joy Stembler Metal Arts Studio
Pesach (Passover) Seder Plate
Regular price
$580.00
$0.00
Striking, contemporary Seder plate that will be a part of your Passover celebrations for  years to come.
The Seder plate is the focal point of the proceedings on the first (two) night(s) of Passover. Whether it is an ornate silver dish or a humble napkin, it bears the ceremonial foods around which the Seder is based: matzah, the zeroa (shankbone), egg, bitter herbs, charoset paste and karpas vegetable.
This very special  plate has a hand worked  solid brass base  that cradles the traditional removable pewter cups. Hand-pierced pewter Hebrew words, representing the ceremonial foods served a traditional Passover plate adorn the cups.
Size: 12" x 12" x 3.5"
---
Share this Product
Delivery of Handmade Items may vary from 2 to 6 weeks. Call Store for Details 607-277-2846.
---
More Products Like This