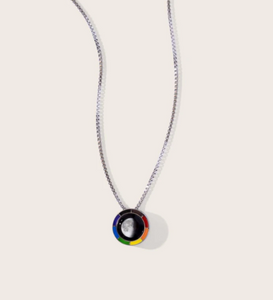 MoonGlow Jewelry
Pride Moonglow Necklace
Regular price
$58.00
$0.00
Now Available! Shop Now at MyAmericanCrafts for this Pride MoonGlow necklace by MoonGlow Jewelry.
June has long been recognized as LGBTQ+ Pride Month and this pendant brings the Moon and the colors of the rainbow together for this celebration. Whether you choose to celebrate yourself or someone you couldn't be prouder of, meet the perfect piece. 
With a thin chain, the main focus is the Moon pendant, which showcases the Moon from any date you choose but also the rainbow colors the pride flag surrounding it. Celebrate who you are, who you love and those moments you never want to forget. Part of the proceeds of this necklace will be donated to OutRight Action: an International organization dedicated to fighting for the human rights of LGBTIQ people everywhere.
MoonGlow Jewelry is a unique type of jewelry that shows the phase of the moon. To choose your special moon phase, just view our Moonglow necklaces and find the MoonGlow code,( i.e. 3D), enter the code in the "add a note" section of our shopping cart and proceed with your purchase.
The phase occurring on that day, any day, any year is available to set in a pendant. The shimmery "glow" happens after the moon absorbs light during the day and glows an ethereal blue when the sky is dark! 
In the natural world, light is reflected by this silvery, celestial body. Its luminous shimmer has inspired romantic wishes for centuries. Many believe wearing its image can bring you magical dreams. And a crescent moon symbolizes womanhood, intuitiveness, and empowerment for the wearer. The power of the moon pushes and pulls the ocean tides and can dictate the planting season. Lovers have long enjoyed the face of their beloved illuminated by the rays of the silver moon.
10mm charm on a stainless steel chain adjustable to 19".
---
Share this Product
Delivery of Handmade Items may vary from 2 to 6 weeks. Call Store for Details 607-277-2846.
---
More Products Like This