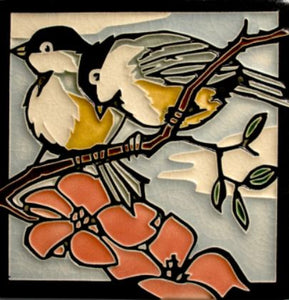 Motowi TileWorks
"Spring Chickadees" Tile
Regular price
$95.00
$0.00
Now Available! Shop Now at MyAmericanCrafts for this sweet "Spring Chickadees" Framed Tile handcrafted by Motowi Tileworks.
Two lively little chickadees perch on a flowering branch. The birds black, yellow, grey and white plumage contrasts beautifully with peach hued blossoms against white clouds and pale blue sky. 
Artist Yoshiko Yamamoto is a self-taught block printmaker who strives always to fuse Japanese design sensibility with fine craftsmanship.  Yamamoto's bold prints work well as a raised-line Motowi tile designs. Yamamoto's graceful, swaying scenes bring clay to life.
"Among all the springtime visitors to our garden, the lively chickadees are our favorite. Always chattering 'chick-a-dee-dee-dee', these tiny birds never seem to tire and amuse us with their playful acrobatics!"- Yoshiko Yamamoto
Motawi polychrome tiles are striking individual art pieces as much as functional tile installation accents. vThe bold heft of each Motawi tile reveals serious craftsmanship. And our time-honored hand-glazing methods produce a nuanced range of color with depth and translucence.

---
Share this Product
Delivery of Handmade Items may vary from 2 to 6 weeks. Call Store for Details 607-277-2846.
---
More Products Like This